We may be divided as a country, but it seems like there's one thing that most members of the older generations can agree upon: millennials are a pretty convenient scapegoat for pretty much all complaints.

Either millennials are spending too much money on non-essential items — or they're not spending the money they don't have on outdated business models, forcing them to go out of business. Millennials are damned if they do, and damned if they don't. And frankly, most of them are getting pretty sick of it.
Hashtag Roundup recently prompted their followers to express their feelings on the millennial plight by using the hashtag #StrugglesOfAMillennial.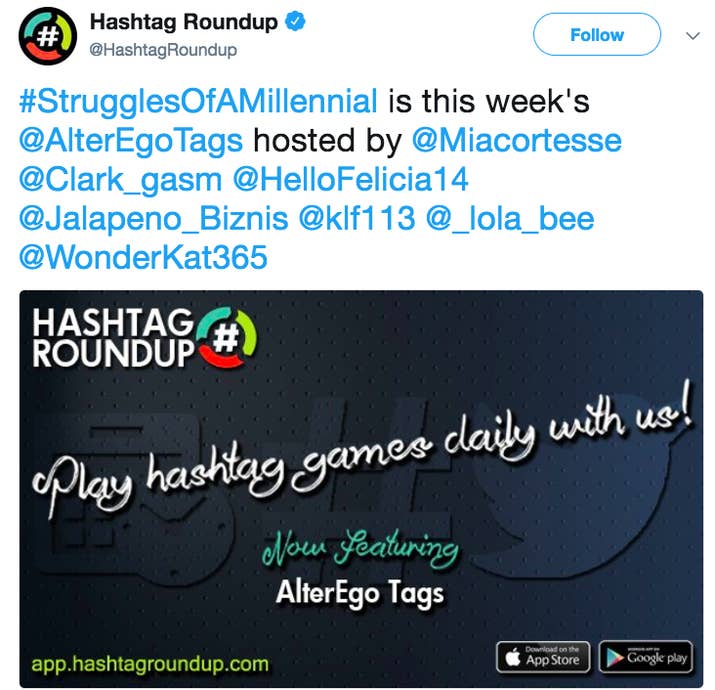 Of course, there were plenty of people who used the opportunity as an excuse to rag on millennials and their social media-obsessed ways.
#StrugglesOfAMillennial
Poor restaurant lighting making it difficult to get a good photo of your meal

— Barry Colthorpe (@BarryColthorpe) July 10, 2018
#StrugglesOfAMillennial
What do you mean there's no WiFi in here?

— Mia Cortesse (@Miacortesse) July 10, 2018
However, others used the hashtag as an opportunity to get F**KING REAL about how millennials are often required to be extremely overqualified for entry-level positions.
"Bachelor's required, Master's preferred. Starting at $15 (no benefits)" #StrugglesOfAMillennial

— Janet ????????‍♀️ (@JolieJanet) July 10, 2018
Being the most educated generation throughout history. #StrugglesOfAMillennial

— Brian J Farnsworth (@BrianJF_Dubs) July 11, 2018
REQUIRED: 4 yr degree, multiple certifications, and 10 yrs experience
OFFERED: 30k with no benefits.#StrugglesOfAMillennial

— Blue Pibble (@BlueWolfeyLu) July 10, 2018
And let's not forget the fact that they're just generally poor.
How about never being able to buy a fuckin' house?#StrugglesOfAMillennial

— Dirtbox Murphy (@NeilMurphy327) July 10, 2018
Their student loans outpace their earning potential. They're screwed out of the housing market. And all the older generations crap on them.

Sorry, was I supposed to make this funny?#StrugglesOfAMillennial

— Dawn (@thoughtfloss) July 10, 2018
50 years of deindustrialization and failed tax policies have created a system where millennials have fewer opportunities than in the past, but whatever avocado toast. #StrugglesOfAMillennial

— Rad Hombre in TX (@mondiesman) July 10, 2018
Oh, and then there are all of the Baby Boomers who are constantly sh*tting on millennials simply for being a younger generation.
If I had a dollar for every time a "Baby Boomer" made a joke about "Millennials", I probably be able to afford a house in the economy they ruined! #StrugglesofAMillennial

— #SkyTags ???? (@Sky_Tags) July 10, 2018
#StrugglesOfAMillennial being described as "entitled" by generations who enjoyed affordable housing, High interest rates, good/attainable jobs with benefits which required little education, clean air and good music.

— danny kean (@dannykeanmusic) July 10, 2018
Having to listen to non-millennials sit and complain about how lazy millennials are while you are doing both your work AND theirs.#StrugglesOfAMillennial

— Scrittore (@Scrittore18) July 10, 2018
#StrugglesOfAMillennial being called lazy by the generation that raised me.

— Just Heather (@dishs_up) July 10, 2018
Constantly being categorized as a child when really you're 30, married, have a career and a home ????????‍♀️ #StrugglesOfAMillennial

— Ericka (@ericka_HD) July 10, 2018
Dealing with whiney old people bitching about their generation. #StrugglesOfAMillennial

— Cheyenne???? (@TheSeaRose) July 11, 2018
Honestly, making fun of millennials is getting kind of old. Y'all need to find a new joke.