A high school student from Albuquerque, New Mexico, has gone viral with her senior quote. 18-year-old Krysta Montoya simply wrote, "Grey's Anatomy, Season 5, Episode 6, 39:40" in her school's yearbook. Her message left fellow students curious as to what exactly she was referring to.
In a Tweet that has since gone viral, Montoya explains that she's referencing a scene in which Erica Hahn, a character on the famous medical drama, says, "I am so, so, so gay." The tweet, which is now pinned, reads, "Just because everyone keeps asking me what my quote is. Here ya go." The scene takes place a little over 3 minutes into the episode.
As of Thursday afternoon, Montoya's tweet had raked in over 149K likes and 39K retweets.
---
Montoya Has Been out Since Her Freshman Year
Just because everyone keeps asking me what my quote is. Here ya go. pic.twitter.com/tOKSh79viE

— Krysta Ann???? (@krystaataa) April 30, 2018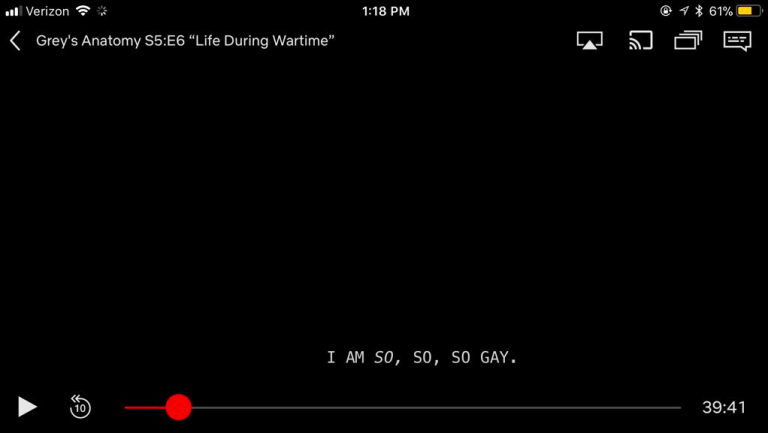 According to Insider, Montoya has been out since her freshman year. In an interview with the outlet, she simply said, "I was just watching 'Grey's Anatomy' one day and I saw that quote and I wanted to make it my senior quote."
She continued, "I chose this as my quote because I feel some people do not accept who I am. I just wanted to basically make a bold statement… I've lost some friends over my sexuality, but my family has always supported me."
Montoya admits that she's a huge Grey's Anatomy fan. "Grey's Anatomy is probably one of my favorite shows and has made me feel a roller coaster of emotions," she says.
The Twitter World Is Trying to Get Her on the Ellen Show
https://twitter.com/FrankCooney/status/992108127859478530
Montoya has received an outpouring of love on social media from those who admire her quote. She has been actively retweeting many of the posts. One Twitter user wrote, "You are going places lol you popped up on my gf FB reposted from an LGBTQ pg! ?️‍? Best senior quote I've ever seen! ??"
As of Thursday afternoon, a handful of people had tweeted at Ellen DeGeneres in an attempt to get her on the show.
https://twitter.com/juliana_gurule/status/992043263946178560
Based on social media, it appears Montoya is in a relationship with a woman named Juliana. On Thursday, Juliana posted a tweet that read, "I'm so proud of my baby she got on the insider, buzzfeed, and she keeps getting interview offers." Krysta responded, "I love you!!". Juliana replied back, "I love you more. I'm so proud of you baby❤."
On March 5, Juliana posted a photo of the two to Twitter, writing, "I love you and I promise to always love you no matter what may happen. You will always be so incredibly special to me. I love you baby Happy Birthday❤❤"
https://twitter.com/juliana_gurule/status/970701430179926016