Donald Trump Jr. is not exactly what you'd call a romantic. It now appears that he's so consumed with Twitter grievances that there's no room left in his heart for his wife, Vanessa.
According to the New York Post's Page Six, Vanessa Trump has filed for divorce from Donald Trump Jr
BREAKING: The president's daughter-in-law has filed for divorce https://t.co/Q64b5U4cwV

— Page Six (@PageSix) March 15, 2018
The gossip page reported yesterday that friends of the couple were saying the two might be heading in that direction, and now it looks like they're there.
"The problems have been there for a long time, the couple had hoped to stay together during the President's time in office, but it is getting harder to resolve their issues," one source told us https://t.co/HMFsX2tYz6

— Page Six (@PageSix) March 15, 2018
Don Jr. and Vanessa had a classic fairy tale "meet cute" in 2003 when Vanessa joked that Trump Sr. was mentally impaired:
this is how don, jr. and vanessa trump met https://t.co/6W2FfsVBQW pic.twitter.com/I0Mo2vveYu

— Kenzie Bryant (@kenzbry) February 8, 2018
Like father, like large adult son.
Why now? According to the Post, it has to do with his Twitter activity:
"An issue, two of the sources say, is that Don Jr. "appears to have changed recently, and friends are concerned about him." Their concerns were increased by Don Jr.'s tweeting, including when he liked a tweet linking antidepressants to mass murder, and another liking a tweet attacking a teen survivor of the Stoneman Douglas High School shooting. The Daily Beast also reported that following the school shooting, Don Jr. urged his dad to stay strong on gun rights and hold firm against any assault weapons ban."
Since entering the political arena, Don Jr.'s been on a tear on Twitter, lending his likes to some truly insane tweets, like this one blaming antidepressants for school shootings:
https://twitter.com/mattyglesias/status/969357147539738625
i would very much like to know what don jr thinks antidepressants do pic.twitter.com/Cb1P7ZWHfe

— Ashley Feinberg (@ashleyfeinberg) March 6, 2018
And these tweets advancing conspiracy theories that the Parkland survivors were crisis actors and part of some "deep state" plot:
Gateway Pundit going after high school student journalist who survived — and covered — last week's mass shooting. pic.twitter.com/u6UAcLMcLj

— Chris Geidner (@chrisgeidner) February 19, 2018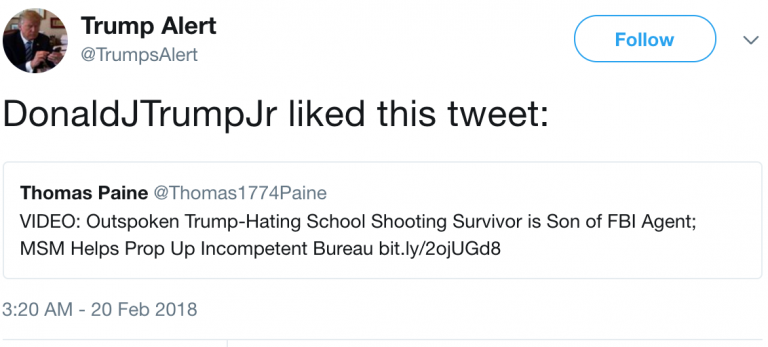 And whom amongst us hasn't liked at least one tweet incriminating ourselves in a illegal conspiracy to help a foreign power interfere in an election?
sad to leave The Year Of Don Jr Telling On Himself behind but excited to see what the future holds pic.twitter.com/kKwBv3ISz5

— Ashley Feinberg (@ashleyfeinberg) December 31, 2017
When he's not smashin' that like button, Don Jr. likes to mix it up by insulting our Olympic athletes: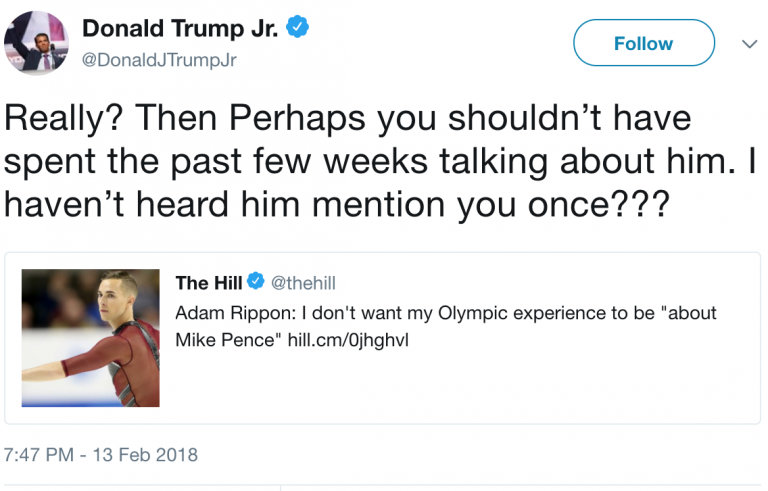 And use his kids to advance really, really, really stupid political arguments:
I'm going to take half of Chloe's candy tonight & give it to some kid who sat at home. It's never to early to teach her about socialism. pic.twitter.com/3ie9C0jv2G

— Donald Trump Jr. (@DonaldJTrumpJr) October 31, 2017
BUT Don Jr.-watcher Ashley Feinberg has an interesting theory about the potential split:
i thought the speculating that this was all just so don jr could transfer over his assets to vanessa and not worry about them being seized was too nuts but tbh it seems…. not impossible? pic.twitter.com/98ZSlzqqzZ

— Ashley Feinberg (@ashleyfeinberg) March 15, 2018
It might be an attempt to offload his assets in case Mueller's investigation uncovers some massive crime.
Could Don Jr. be that smart?
Don Jr. pleading with his wife not to leave him pic.twitter.com/NHZcgasp1G

— Orli Matlow (@HireMeImFunny) March 15, 2018