Dogs… we love them, they're great.
Label makers… okay some of us love them, they're funsies we guess?
However, one woman in New York is showing us what magic can happen when dogs and label makers combine.
We don't know her name; we don't know her backstory. All we know is this unsung hero of fashion, labeling and dog ownership is showing us all just how great we can truly be.
She swooped into one Twitter user's life without warning.
Katrin was just walking around New York when:
This woman was walking around NYC with this label on her shoe and now she's my wife pic.twitter.com/T8UvFYgokv

— Kegel Accident ???? (@KatraHigher) May 31, 2018
Let's take a closer look: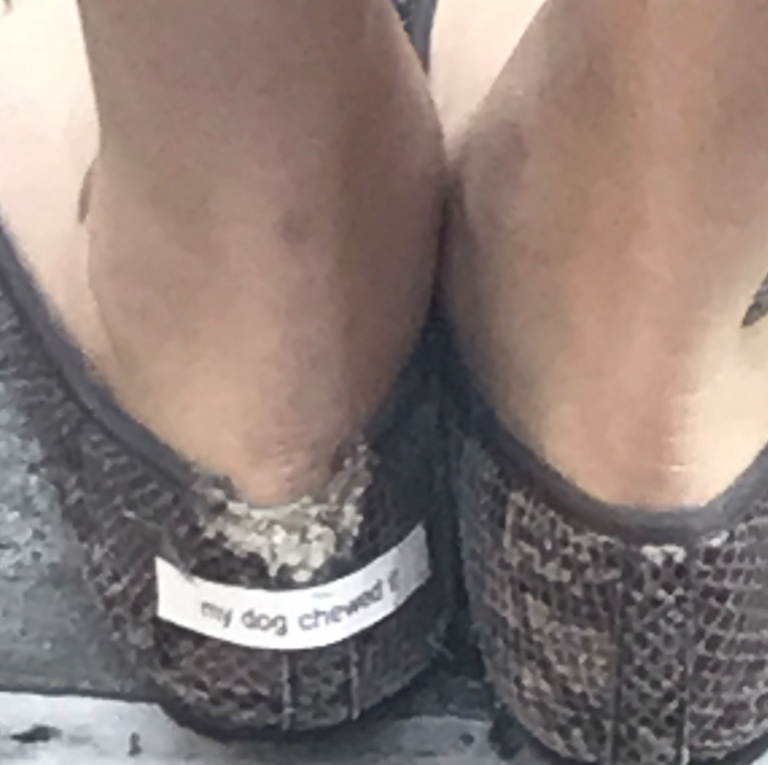 That's right, the back of the woman's left shoe has a significant chunk missing and underneath the gap is a neat little label that reads:
"my dog chewed it"
This woman is winning the internet and revolutionizing labels right now.
And she may not even know it:
This is the best use of a label maker in the entire history of label makers.

— Robyn Pennacchia (@RobynElyse) May 31, 2018
*Me taking notes pic.twitter.com/EufRGVRqfl

— Carol (@_currl_) June 1, 2018
People could certainly relate:
Good idea ???????? pic.twitter.com/PiqJlCCPGi

— iniyesesta (@BogosiMorojele) May 31, 2018
I love that she felt the need to explain the damage. I do stuff like that too. But my labels would mostly say "taco grease."

— corinna (@malinche73) May 31, 2018
BRB, gotta make labels for EVERY damn table leg in my house..

— Sherry (@therealsherrys) May 31, 2018
I know her pain lol pic.twitter.com/HrR5RqM4tF

— P.K (@lltnkd) June 1, 2018
Is she selling these labels? I need them in shoe, hat, furniture and door sizes.

— MostlySinistral (@adelach) May 31, 2018
My whole house needs that label…

— The Eagle Tried to Warn Us ? (@StDaphne) May 31, 2018
Can I get one for my forehead that just says "life?"

— Midtown Receptionist (@MidtownRecepti1) May 31, 2018
I need a label that says "my cat slept on it"

— Pizza McRib (@PizzaMcrib) May 31, 2018

And some even decided to Twitter shame their own little perpetrators:
Shoe chewer in time out right here. pic.twitter.com/UQHNyW3Tyg

— Amy (@theamyedixon) May 31, 2018
— Amy (@theamyedixon) May 31, 2018
Just a pair of yeezys nbd, still wear them when I grocery shop too. pic.twitter.com/GXIpvZq7V3

— Nathaniel J Romo (@1nromo) June 1, 2018
We don't know who you are, lady, but our slightly chewed hats are off to you!