We want a relationship this honest.
Being a happy couple can be a challenge when one partner is an introvert and one is more extroverted. Some people, like myself, have the gift of gab and can happily talk for hours on end. Others, like our partner (hi babe!), would pay unspeakable sums of money for the ability to have silence on demand. Everyone needs a little quiet sometimes.
Be honest, there are times you really want to go all Kindergarten Cop on someone.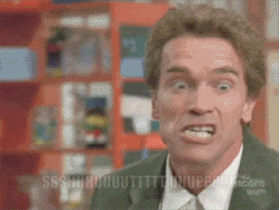 We 100% support everyone's right to ask for whatever works for their mental energy at the moment, but how do you ask someone to stop talking politely?
A couple overheard on a subway recently seems to have really figured it out, and lucky for us, Corinne documented the exchange on Twitter.
Couple is sitting next to each other on the subway and the woman is talking the man's ear off about her roommate when the man goes, "Katie, if you don't mind, I'm going to go into my head for a bit," and now I have my response to every convo I want out of forevermore

— Corinne Sullivan (@corinnzo) April 8, 2018
Believe it or not, she nodded complacently and then they sat together in thoughtful silence. #relationshipgoals at its finest.

— Corinne Sullivan (@corinnzo) April 8, 2018
Twitter is inspired.
— Mary Kate Uribe (@marykateuribe) April 10, 2018
Some of y'all trying to say this is rude but y'all don't know their relationship?? What if this is something they have discussed and she knows she talks a lot or he is introverted so she said if I'm ever overwhelming you tell me! ??‍♀️

— Kaitlynn H. (@Kitty_KB1) April 10, 2018
That's an awesome level of relationship communication

— Sophie || SophieXO (@strukkaz) April 10, 2018
This qualifies as a PSA. Thanks! pic.twitter.com/KvQkVEDnHi

— Gristle McThornbody (@DadLibertarian) April 11, 2018
Most honest husband ever. Most simply go in to their head anyway while she is talking (with autonomic response every now and then of "hmm hmmmh" and "really?").

— Alan Lawlor (@alanlawlor) April 10, 2018
HOLLYYYYYYY EXCELLENT STRATEGEM BATMAN

— SERIPH! (@SeriphDubs) April 10, 2018
I love this, it means that they communicate and they understand each other. Knowing, understanding, and loving your partner for who they are is the best relationship a person can have. I would say I want a relationship like that, yet I already do. KUDOS to them!

— ☠ One Crazy Momma ? (@EvilMeanMom) April 10, 2018
Kind open honest response

— Laura Brooks (@Lauracowgirl) April 11, 2018
Especially since so many of us are less tactful and less successful at this.
So polite! Here's my style pic.twitter.com/WuysNdw3id

— DMcW (@Daphnemcw) April 10, 2018
How do I say this to my wife without ending up sleeping in the garage?

— Overthewhether… and through the woods… (@Overthewhether) April 11, 2018
That's way less relationship damaging than saying, "UNSUBSCRIBE".

— John Lombardo (@betterbomb) April 10, 2018
My husband just laughs and reminds me to breathe if I get too wound up. But that is also a cool answer.

— Jane Datz (@EnoJane) April 10, 2018
That's much better than my usual response… pic.twitter.com/zSEoKcsoKb

— Ghee (@mr_ghee_wizz) April 10, 2018
Love the honesty. I see myself becoming very angry in Katie's shoes. Not justifiably, but nevertheless ?

— The Plotting Penstress (@NyReeAusler) April 10, 2018
…I'd love to use that line in my wife, but I haven't spoken to her in over 9 months…. I don't want to interrupt her….

— ChrisBradford73 (@czarofbar) April 10, 2018
I would have just said, Jesus! Are you on speed? Your driving me fucking crazy!

— Richard Mello (@shuttermug1) April 10, 2018
When you're older you'll just turn off your hearing aid. And mumble every once in awhile.

— Ken Baxter (@baxken) April 10, 2018
Although maybe it's not a strategy that would work for alllll couples…
If I do this then I will be asked to stay in my head for rest of my life.

— ?Doc? (@CricketMedicine) April 10, 2018
Click here to read through more hilarious responses.