Dog owners aren't always considerate when it comes to the people they live near, so when one steps up to apologize and explain a unique situation before there is even an issue, the internet kind of makes it a big deal.
This is the story of Charleston Chew, an 11-year-old pug that's lived a long and healthy life. Currently, he's living with the qualms of growing old. He has cataracts and has difficulties seeing, which makes it hard for him to always locate his adoring owner, Sharla Wilson. When he can't, Charleston learned a rather unsubtle way to get her attention. He howls, and as Wilson describes it, "This howl is crazy. It's a startling noise, to say the least. It sounds like some sort of alien life form."
In many living situations, Charleston's howl would be no concern to Wilson, especially as she grew accustomed to it; but living in an apartment building, she had the foresight to think about her neighbors would react. So, to give them a heads up, Wilson introduced them to the pug and his quirks in a way that's impossible not to love.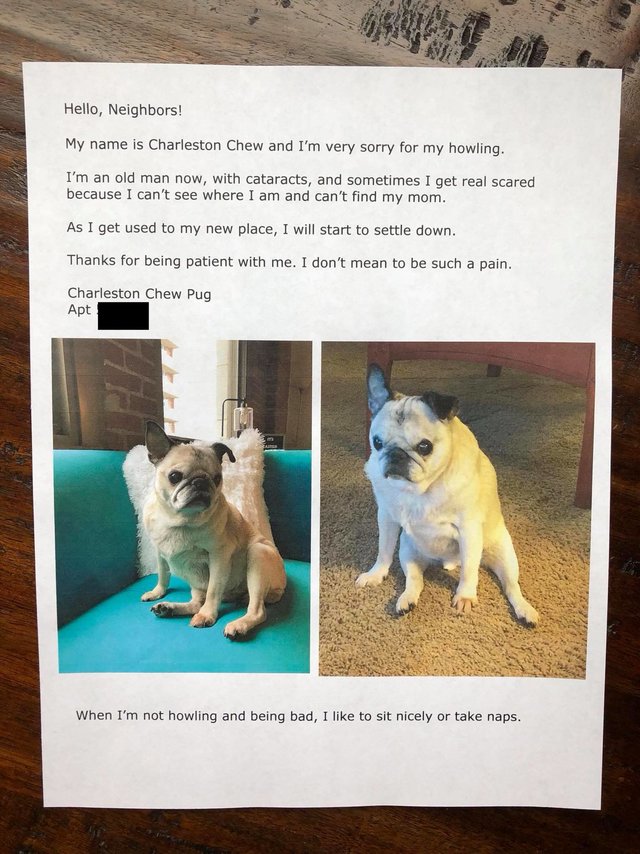 "I was told it was a quiet building, so I made a note thinking we'd get ahead of it," Wilson explains. "I put this sign up as an advertisement, like, 'Sorry everybody. This maniac is going to howl.'"
Her note went without response until Megan Jones, a fellow resident from several floors below Wilson, pressed the wrong button on the elevator. "I accidentally rode the elevator to the fifth floor. I was annoyed with myself but then looked up to see Charleston's sign which made the inconvenience totally worth it," Jones stated. Charmed by the note, Jones did what any 21st-century person would do and took to social media.
You howl all you want Charleston, honey pic.twitter.com/Cv5bLk0ogh

— halloqueen ☾ (@jegan__mones) April 30, 2018
What she didn't expect was the more than 120,000 retweets and 445,000 likes that the post garnered. People were smitten with the 11-year-old pup, enough so that Wilson then created a Twitter page specifically for her canine companion. Within five days and with only 25 tweets, the Charleston-centric page, @Charlestons_Mom, gained over 2,800 followers. Wilson even gave the internet a taste of Charleston's signature howling.
Well, you asked for it. He smelled a dandelion he couldn't locate and howls galore ensued… pic.twitter.com/8ACenw95G1

— Sharla (@Charlestons_Mom) May 2, 2018
"He's been my light during some tough times. He's been my friend. He's been my everything," Wilson says of her close bond with Charleston. "It's heartbreaking to see him struggle, but I'm doing my best to accommodate him." How does she accommodate him specifically? "He loves daytime soap operas. That's what he watches during the day. I think he howls less when he's watching his stories."
Can we all pool on a @Petco / @PetSmart gift card or something? How do we get this goodest boy the treats and comforts he deserves?

cc: @Charlestons_Mom

— Ashley (@InMyMargins) May 2, 2018