The invitation-only Met Gala event, Heavenly Bodies, implored that its innovative guests mix "Fashion and the Catholic Imagination." The annual gala, also known as the Met Ball, is held to benefit the Metropolitan Museum of Art's Costume Institute in New York City and is a "who's who" of celebrities across all industries.
Supporting the Met at the 2018 gala was a host of well-known names and faces from sports, the music industry, fashion, and Hollywood, all donning attire inspired by the Catholic faith. Of the more anticipated looks was Madonna, who first appeared at the event in a black Jean Paul Gaultier gown complete with a netted veil and cross-decorated crown. During a surprise performance, however, her look got a little more heavenly as she sang Leonard Cohen's "Hallelujah" and her own 1989 hit, "Like a Prayer."
Madonna came to the #MetGala like a prayer. #MetHeavenlyBodies pic.twitter.com/sPB2pyieEb

— E! News (@enews) May 8, 2018
Madonna was far from the only star to wow the crowd and the pop queen may have even been subdued by Rihanna's Pope-inspired garb. The sparkling dress and matching "Pope hat" captured the theme of Catholicism spot on and were amplified by her bejeweled crucifix and pearl anklet.
wow. rihanna really did that #MetGala2018 pic.twitter.com/ousVCZUvrF

— jenna ortega (@jennaortega) May 7, 2018
Starlets and stars galore sauntered up the red carpet for their moment in the spotlight, including the likes of Selena Gomez, Kate Bosworth, Olivia Munn, Daniel Kaluuya, Amanda Seyfried, Lily Collins, Shailene Woodley, and Issa Rae. Gala co-chair Donatella Versace was also present on the red carpet along with the evening's honorary co-chair, Amal Clooney.
Hello, @KylieJenner and @SelenaGomez ???? #MetGala pic.twitter.com/l9tOJECWrT

— MTV (@MTV) May 8, 2018
Dresses and even some of the men's suits ranged from the more subdued, like Gisele Bundchen's thigh-high slit and husband Tom Brady's black suit with ornate gold trim, to the outlandish and spot on, like Ariana Grande's dress made from a Sistine Chapel print and Chadwick Boseman's indescribable, albeit incredible, cross-laden cape and suit.
Model @giseleofficial and husband, football player #TomBrady, walk the red carpet. #MetHeavenlyBodies #GiseleBündchen pic.twitter.com/HyP6BMrJJO

— The Met (@metmuseum) May 7, 2018
CHADWICK TAKING US TO CHURCH ????????#MetGala pic.twitter.com/KMCjBaNfkp

— Complex Pop Culture (@ComplexPop) May 7, 2018
The Daily Show's Trevor Noah went for a loud look of a large rhinestone cross on his shoulder while Jared Leto and Lana Del Rey stunned with an incredible mix of fashion and religious overtones.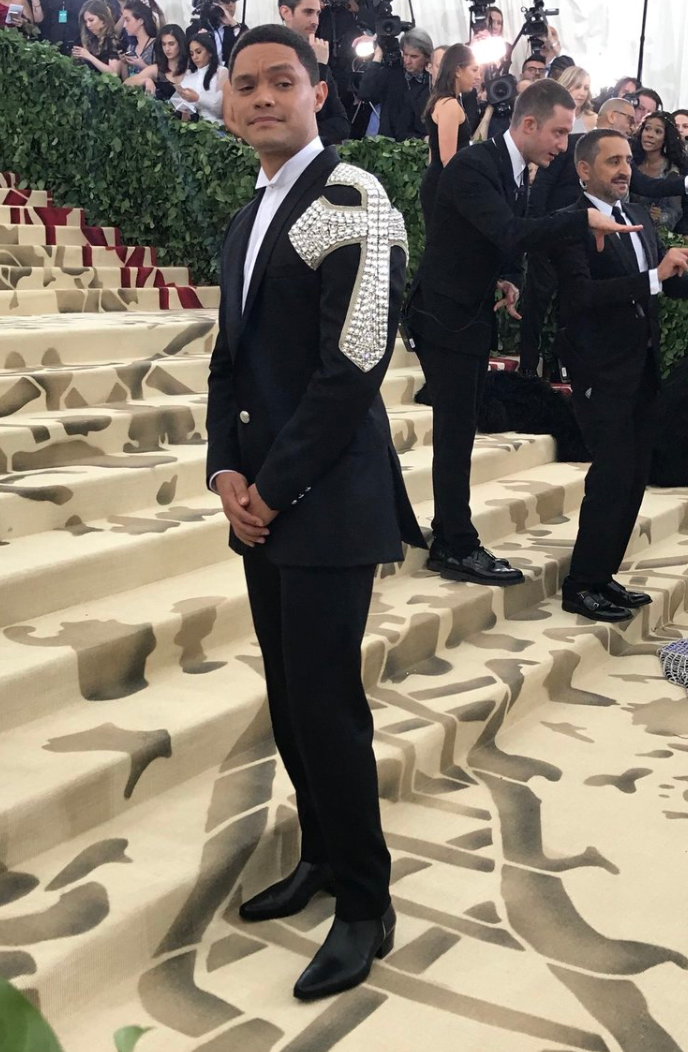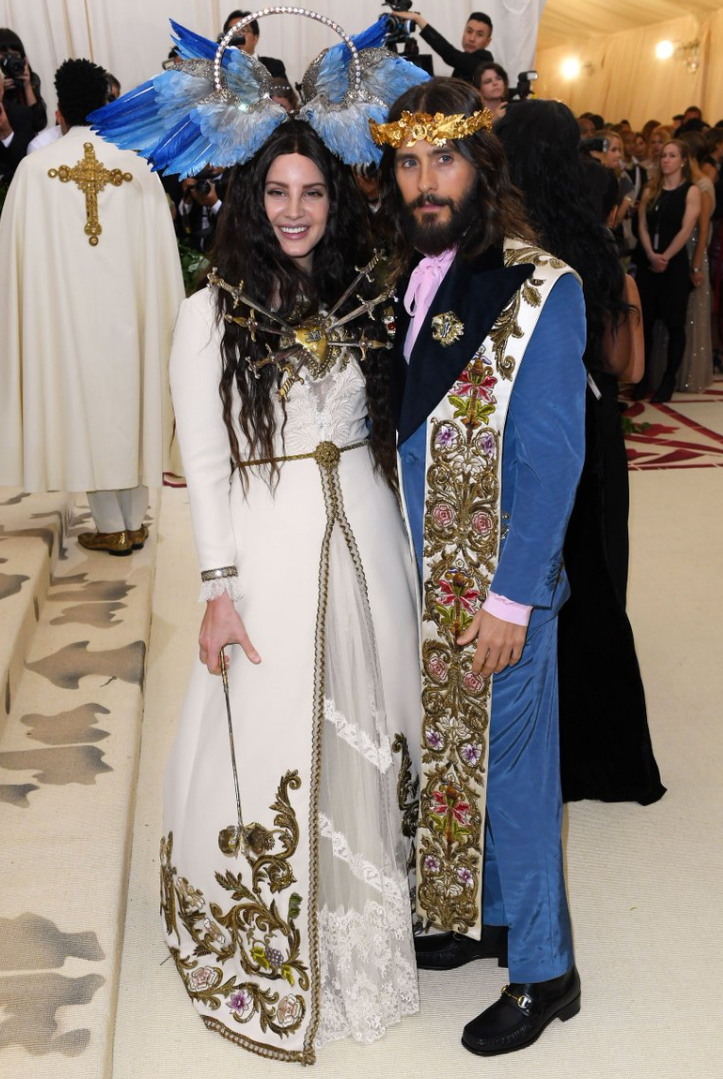 ZENDAYA STEP OFF MY NECK CHALLENGE #MetGala pic.twitter.com/ghWwjDWUtc

— Teen Vogue (@TeenVogue) May 8, 2018
Jennifer Lopez, Nicki Minaj, Gigi Hadid, Stephen Colbert, Kylie Jenner, Scarlett Johansson, Frances McDormand, Emilia Clarke, and Mary J Blige all arrived in their own very different interpretations of the Met Gala's theme, each one a dramatic representation of Catholicism.
Can we talk about J. Lo real quick? #MetGala #MetHeavenlyBodies pic.twitter.com/o2MjhDXzwv

— E! News (@enews) May 8, 2018
.@NICKIMINAJ stuns in this #MetGala look. #MetHeavenlyBodies  #NickiMinaj pic.twitter.com/GHfUO6VpoW

— The Met (@metmuseum) May 8, 2018
Arriving in an ombré gown, Scarlett Johansson walks the stairs of the #MetGala. #MetHeavenlyBodies #ScarlettJohansson pic.twitter.com/AUW7sIo8dw

— The Met (@metmuseum) May 8, 2018
.@StephenAtHome and wife Evelyn walk the #MetGala carpet. #MetHeavenlyBodies #StephenColbert pic.twitter.com/FsHe4UUyv8

— The Met (@metmuseum) May 8, 2018
Frances McDormand and her wild headpiece had an absolute blast at the #MetGala. ???? https://t.co/AfKPhKXi1V pic.twitter.com/itPXC46FfD

— Entertainment Tonight (@etnow) May 8, 2018
.@iamcardib is glowing as she walks the #MetGala red carpet. #CardiB #MetHeavenlyBodies pic.twitter.com/SMb8CBpYYN

— The Met (@metmuseum) May 8, 2018
Sex and the … Catholic Church? #MetGala https://t.co/X80aY39KK9 pic.twitter.com/qcMB6DdCCB

— NYT Fashion (@NYTFashion) May 8, 2018
Letitia Wright and John Boyega at the #MetGala together! We need to see them share the big screen. pic.twitter.com/7GfyUAdrmk

— Geeks of Color (@GeeksOfColor) May 8, 2018
Ashley and Mary-Kate Olsen are known for their modest, often vintage red carpet looks. Learn more about their looks tonight in our #MetGala live blog: https://t.co/k4LgnWjTyC pic.twitter.com/XmBuG9TiS4

— Vogue Magazine (@voguemagazine) May 8, 2018
Gigi Hadid looks gorgeous in her gown as she arrives at the #MetGala. #MetHeavenlyBodies #GigiHadid pic.twitter.com/YxhZ3NPX8t

— The Met (@metmuseum) May 8, 2018
.@MileyCyrus, @StellaMcCartney and @ParisJackson arrive together to the #MetHeavenlyBodies carpet. #MetGala pic.twitter.com/JSQXIW01XD

— The Met (@metmuseum) May 8, 2018