Kim Cattrall's latest Instagram post holds nothing back concerningt her feelings about Sarah Jessica Parker. The actor— whose brother recently went missing, then found dead shortly after— blasted former SATC costar Sarah Jessica Parker on Instagram for "exploiting our tragedy in order to restore your 'nice girl' persona."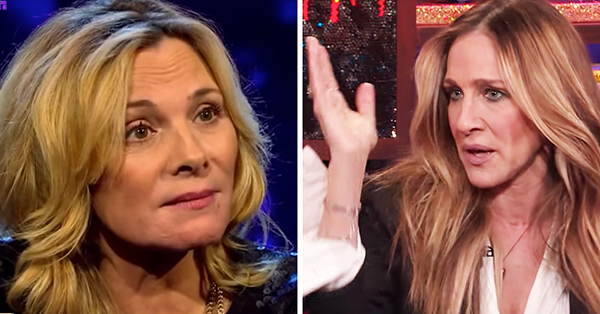 SJP expressed her sympathy to Cattrall in an Instagram comment, after having mentioned the incident during a Thursday screening of her HBO show Divorce. She told Extra: "I can't begin to know how her family is managing such a loss. We all send her our love and condolences and grant her the privacy that she's asked for."
This all comes just several weeks after Parker appeared onWatch What Happens Live with Andy Cohen and said she was "just heartbroken" upon hearing that Cattrall never considered herself to be friends with the other three women in the Sex gang. "I found it very upsetting because that's not the way I recall our experience," SJP told Cohen at the time.
Cattrall posted the following message to her Instagram last Saturday, rejecting Parker's involvement and sentiment:
She wrote, in the caption:
"My Mom asked me today "When will that @sarahjessicaparker, that hypocrite, leave you alone?"

Your continuous reaching out is a painful reminder of how cruel you really were then and now. Let me make this VERY clear. (If I haven't already) You are not my family. You are not my friend. So I'm writing to tell you one last time to stop exploiting our tragedy in order to restore your 'nice girl' persona."
Kim Cattrall ended the message with a link to a New York Post article titled "Inside the mean-girls culture that destroyed 'Sex and the City'" which served as a timeline for the long-standing beef between the costars and how the drama effectively sunk any chance at a third SATC film. Parker has not responded to Cattrall's biting message.
Last September, The Daily Mail reported that the third film was in the making until Cattrall forced "outrageous demands" on the studio, one of which required Warner Bros. to produce other movies she was working on. The actor denied all such allegations and told Piers Morgan in an interview how none of her former costars had bothered to reach out to her when rumors began circulating claiming the demise of the third film was completely her fault.
"I never asked for any money, I never asked for any projects. To be thought of as some kind of diva is ridiculous," she told Morgan. "Nobody ever picks up the phone and tries to contact you and say, 'How you doing?' That would have been the way to handle it," she went on. "This is, it feels like, a toxic relationship."
The New York Post article shared by Cattrall explains how isolated the actor felt on set and the chagrin she endured having never seen her salary grow throughout the years. The article cites a friend who said Cattrall "feels she has been treated horribly by Sarah Jessica Parker for six years." She'd also told Morgan: "Sarah Jessica, she could have been nicer, she could have in some way. I don't know what her issue is, I never have."